Viticulturist Extraordinaire of Grover Zampa Vineyards
Sep 06: Professional journey of Manjunath VG Vice President Grover Zampa Vineyards, as Viticulturist in Indian Wine Industry and keeping a balance between different soils and growing conditions in Nashik, Charosa, Baramati and Bangalore is really noteworthy and is an absolute stimulation for me and motivates me to feature him amongst the wine passionate personalities, writes Sheetal Kadam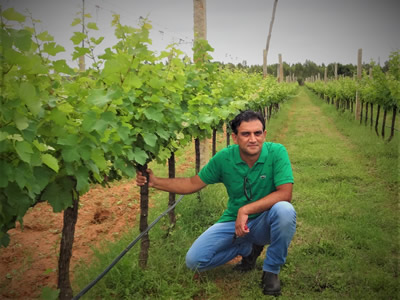 "Indian wines may not stand up for 95% Robert Parker rating, but some of our wines have immense potential to position firmly in international markets. Indian Shiraz for that matter, is an outcome of good soil, climate, rootstock, clonal material and growing conditions. We know our climate, we should take the lead and try for a couple of seasons" says Manjunath VG.
After completing Bachelors and Masters in Science Degrees specialising in Horticulture from Indian Institute of Horticulture (IHR) Sciences, Dharwad, he joined IHR as a Research Associate. He started researching grapes under the guidance of Dr Jai Prakash, known for his incredible work in viticulture.
Later as a fresher, he joined Grover (Assistant Manager Vineyards) in January 2004-2009. Incidentally, he got a lucky chance to shift to Alpine wineries in Mysore, which proved to be the turning point of his career. He strongly believes his experiences of working under Stephane Derenoncourt (Viticulture consultant for Alpine Winery) changed his whole perspective of looking at viticulture; it was a great learning experience right from setting up an entire vineyard of 200 acres, selecting appropriate rootstocks and working with almost 65 combinations of grape varieties.
He also got hands-on experience of administering the challenges in the vineyards-for instance, pruning the vines, controlling yields and managing the stress and nutrients. Unfortunately, the project didn't take the shape as expected and he flip-flopped back to Grover Zampa in Feb 2014, abiding by till date. While he was ascending in his career, he was learning the advanced concepts of viticulture under Michelle Rolland, an Oenologist from Bordeaux and a consultant to Grover Zampa.
Manjunath was also efficiently handling various macro issues faced by the farmers while growing the imported grape varieties, for the sake of adaptability to Indian terroir and its quality aspects. Finally, he conquered the knowledge to grow grapes under control, "It was all possible only because of the organisation's strong core value systems, that focus on producing quality grapes and not on mass production," he says.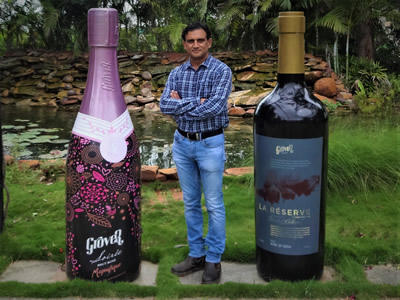 "Mr Ravi Viswanathan, current Chairman of Grover, minutely looks into viticulture aspects, keeping in mind the enhancement of grape quality. It is quite encouraging for me as a viticulturist to have an investor equally passionate about growing quality grapes for wine production", proudly mentions Manjunath. Adding further he says, "I think this is why we have now evolved in quality since 2004, from La Reserve the super-premium to recent Chenin Reserve, insignia, and Vijay Amritraj Reserve Collection and other top red wine brands, our major focus is on making bigger volumes whilst maintaining the quality and consistency".
Soaring high, Grover Zampa is enterprising and acquiring vineyards across India and Burgundy. Apart from extending their vineyards in Bangalore, Grover Zampa has fetched Charosa and Four Seasons in Maharashtra. Three brands operate incongruence, although there is no conflict within the GZ range of Wine, for the fact that the widely spread Charosa over 80 acres in Charosa Village, near Nashik produces new world style, easy-drinking and youthful Wine. Four Seasons in Baramati has entry-level wines, whereas GZ specialises in making old world wines.
Although it's a challenging task for Manjunath as a viticulturist, "It is indeed a great experience to tackle viticulture in different climate zones and soil profiles. Multiple brands under the same gamp of GZ have showered added responsibilities on our shoulders, and of course, we are ready for it, too", he says.
He further explains it is challenging to super control all the vineyards while being stationed in Bangalore; this wouldn't have been possible without the support of his team members. Having ten subordinates operating under him at different locations was highly challenging initially but he took proactive efforts to align the philosophy and build strong trust within the hierarchy of the team, also appreciating that every minute observation from the vineyard is welcoming for the teammates. 
He is thankful for the advanced technology GZ offers them to serve broadly to operate at different locations. He adds, "While, adapting to the change management within the organisation, I always try to bring out a balance between my expectations from nature vs what nature has to offer, and that I respect. I want to explore the challenges and the hardships of climate in extreme tropics such as Himachal, where harvest time is different."
Asking him curiously, the need and scope of adapting new international varieties in Indian terroir, Manjunath acknowledges, "Nothing can be more romantic than seeing varieties express themselves in the changing environment; certainly, there is a narrow gap of varietal selection, not many grape varieties can easily adapt to Indian terroir. International varieties such as Chardonnay or Merlot don't express their true attributes in Indian terroir; one shouldn't waste time on them as they can never strongly position themselves as 'Indian Wine Brands'. These varieties need rest which we can't give in our tropical climatic conditions. As a viticulturist, it is tough and unjustifiable to push such varieties to express their basic characteristics in a changing environment; well, I am not a fan of shy varieties".
Likewise, beyond my passion or company's passion we have to calibrate the market needs and follow the market trends, we must bid for new varieties, breaking through the gateways for the wine business in India. We can't match international styles of Wine. Why would we even attempt to do so when we have our indigenous, unbeatable, unparalleled INDIAN STYLE of Wine that is a true expression of Indian terroir? I think for the passionate wine drinkers, frequent travellers wishing Riesling, Tempranillo or any other International wine style with acceptable quality, produced locally, made available consistently at affordable price, shall be noteworthy".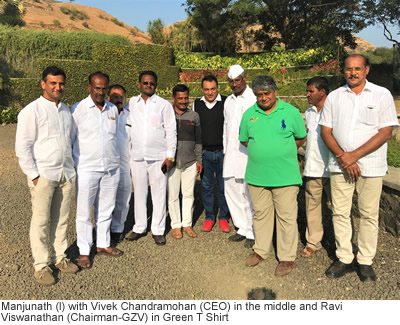 Manjunath acclaims on the quality of Indian Wine, "It is important to improvise our already adapted grape varietals, there is a lot to explore. He has good growing conditions, right rootstocks, suitable soil profile  (30% contribution), by following appropriate viticulture practices (70% contribution) we can produce Super Premium Wines in India. I love to focus and invest more time and energy on the varieties that have adapted well to Indian climates such as Shiraz, Tempranillo, Chenin, Sauvignon Blanc, Cabernet Sauvignon and Cabernet Franc. Tempranillo again can be a great choice if one knows to handle the high yielding vigorously growing variety, that is much suited to Indian terroir".
Manjunath aspires to try out Biodynamic wines, rather than organic wines. He ascertains, "organic viticulture has to be an ongoing process; we must follow it even today, as we did before the introduction of modern agriculture. We don't have to apply chemical fertilisers to grow the grapes (4 tonnes per acre); we need to use it to optimise the yields. It is difficult to produce organic grapes in Indian tropical climate, but producing biodynamic wine is certainly possible in India".  I was amazed by his belief in producing Biodynamic Wine in India.
I am genuinely affirmative, on the viticulturist's role in wine-making, of closely looking into the phenolic maturity, scaling the desired amount of sugar in grapes, figuring out the balanced amount of tannins, for that matter critically deciding the harvest time in line to a style of Wine the wine-maker wants to produce.
In my viewpoint, ideally the viticulturists like Manjunath VG are wizards, they play or interact with the vineyards to bring out the best expressions of variety and terroir in the Wine.
Sheetal Kadam
Mumbai-based Sheetal Kadam is a graduate in Agriculture with an MBA in International Business.

She is also a Certified Level 3 in WSET and a Certified Cultore by Alfiere Italico- Wine, a certified wine course designed and organised internationally by Indo-Italian Chamber of Commerce and Industry (IICCI) outside Italy, in Mumbai. She has worked with Indian wine producers in marketing in Pune for a year. She was part of the delegation organised by IICCI as a member of Italics Wine Club- Mumbai Chapter.